FGL-1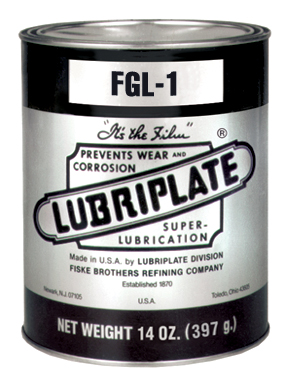 LUBRIPLATE FGL lubricating greases were developed to meet the increasing demands of the food processing and pharmaceutical industries. The trend towards NSF H-1 registered* products to replace H-2 products has required a lot of research and testing to optimize the behavior of the lubricants in the event of incidental contact with the edible product.
LUBRIPLATE FGL greases contain antimicrobial agents that retard the growth of bacteria and mold.
Advantages
Made from clear, transparent, non-toxic USP white oils that meet the requirements of FDA Guideline 21 CFR 172.878.
Components comply with FDA guideline 21 CFR 178.3570 for lubricants with incidental contact with the edible product.
The unique combination of thickeners prevents sweating, a problem often encountered with conventional, food-grade lubricants.
Due to the longer-lasting film, less lubricating grease is required and the relubrication intervals are extended.
Due to its excellent stability, the grease takes much longer to melt under the heavy mechanical loads that are often encountered in high-speed filling and packaging machines.
High temperature stability and oxidation resistance.
Excellent water wash resistance.
Notes on usage:
"These compositions can be used in the food processing, pharmaceutical and packaging machinery industries as a rust inhibitor, on fuel tank cap gaskets as a release agent, and on machine parts and equipment in locations where incidental contact
between the lubricated part and the processed food, pharmaceutical or packaged product can be used as a lubricant. The minimum amount that is required to achieve the desired effect on the machine should always be used."
FGL-l is an NLGI 1 grease and is perhaps the most versatile grease due to its multifunctionality. It can be used at low and high speeds, low and high temperatures and in a wide range of loads. Available in the practical 14½ OZ. / 411 g cartridge and in the 11 OZ. / 312 g aerosol can.
available containers
| container | present |
| --- | --- |
| 10x400g Carton | X |
| 40x400g Carton | X |
| 16kg | X |
| 187kg | X |