FGL-CC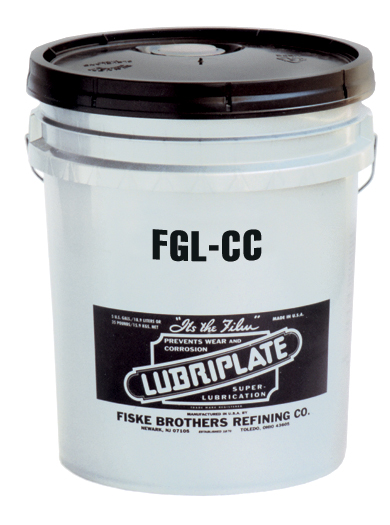 BENEFITS:
The unique thickener structure provides resistance to oil separation, a problem common with conventional food grade greases.
High temperature stability and oxidation resistance.
Excellent water wash resistance.
Provides exceptional rust and corrosion protection.
Better protection against wear thanks to effective additives.
Excellent lot-to-lot consistency eliminates the problem of fat hardening, a problem common to many food-grade greases when stored for long periods.
Notes on usage:
"These compositions can be used in the food processing, pharmaceutical and packaging machinery industries as rust inhibitors, on fuel tank cap gaskets as release agents, and on machine parts and equipment at locations where there is incidental contact between the lubricated part and the processed food, pharmaceutical or chemical packaged product can occur. The minimum amount that is required to achieve the desired effect on the machine should always be used."
LUBRIPLATE FGL-CC is specifically designed for centralized and automatic lubrication systems on high speed can seaming machines.
LUBRIPLATE FGL-CC has been used successfully in the beverage industry for years. The LUBRIPLATE Division has worked closely with original equipment manufacturers and converters in the beverage industry to ensure that LUBRIPLATE FGL-CC meets the demanding requirements of these applications.
LUBRIPLATE FGL-CC can also be used for other machines that need centralized lubrication systems, such as B. Filling and packaging machines.
LUBRIPLATE FGL-CC contains antimicrobial agents that delay the growth of bacteria and mold.
available containers
| container | present |
| --- | --- |
| 10x400g Carton | X |
| 40x400g Carton | X |
| 16kg | X |
| 187kg | X |