Synxtreme FG-0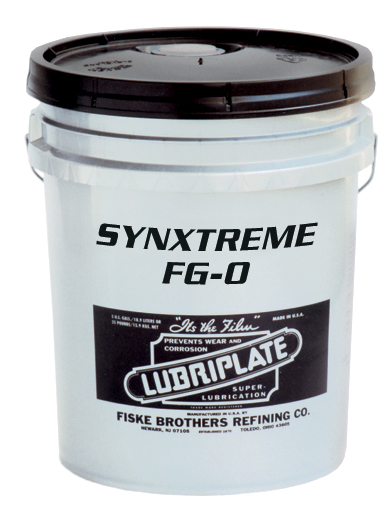 Advantages:
High temperature stability - dropping point at 600°F+/316°C+
Mechanical stability - the fats do not thin out
Excellent wear and tear (AW) and extreme pressure (EP) protection (see back cover for detailed results)
Calcium sulfonate thickener provides unmatched rust and corrosion protection
Excellent resistance to leaching by chemically treated water at high temperatures
The LUBRIPLATE Synxtreme FG series does not contain any components derived from TSE/BSE endangered animal species and therefore complies with the requirements of the TSE Note for Guidance EMEA/410/01 Rev 2 of October 2003.
LUBRIPLATE SYNXTREME FG products are 100% synthetic calcium sulfonate based greases. The innovative technology ensures outstanding shear stability, reduced wear and high resistance to water and other corrosive substances. These food grade greases are made from ingredients that comply with FDA 21 CFR 178.3570.
available containers
| container | present |
| --- | --- |
| 10x400g Carton | X |
| 40x400g Carton | X |
| 16kg | X |
| 187kg | X |