SYNXTREME HT-MAX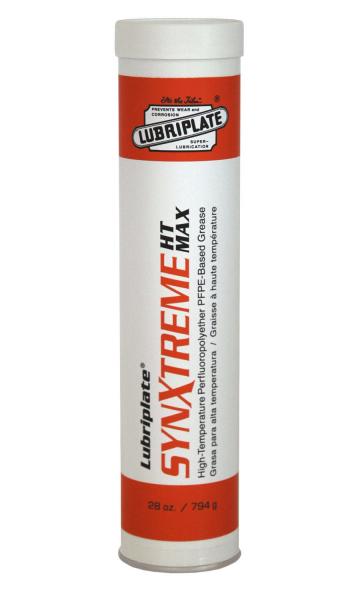 LUBRIPLATE SYNXTREME HT MAX
is a PTFE-thickened fluorinated lubricating grease based on perfluoropolyether (PFPE), which is particularly suitable for high-temperature applications (260 °C).
LUBRIPLATE SYNXTREME HT-MAX Combines high temperature stability and particular stability to chemicals and solvents.
Effective for applications in the oxygen sector (seals, fittings, level indicators, extraction systems, kiln cars, conveyor systems,< br />Baking machines, conveyor systems, cooking and roasting lines).
LUBRIPLATE SYNXTREME HT MAX extends the lubrication intervals and thus the service life due to the low evaporation rate.
Advantages:
Excellent resistance to thermal oxidation and hydrolysis
Low volatility and oil separation
Excellent wear (AW) and high pressure (EP) protection
Extremely inert
Usable for oxygen applications
Good compatibility with plastics and seals
NSF H1 registration number: 153949
NSF ISO 21469 certified
Odorless and tasteless
Free from genetically modified substances
MOSH & MOAH free
HALAL & Kosher Pareve Certified
contains LUBRI-ARMOR (antimicrobial preservative that prevents the breakdown of the lubricant by microorganisms
Made with ingredients that meet the requirements of FDA 21 CFR 178.3750 (lubricants with incidental food contact)
does not contain any ingredients originating from TSE/BSE relevant animal species (TSE Guideline EMA/410/01 Rev. 3 July 2011
Specifications:
NLGI class 2 DIN 51818
Color: White
Operating temperature range: -20°C to 288°C
available containers
| container | present |
| --- | --- |
| 800g Cartridge | X |
| 10 x 800g Cartridge | X |
| 20kg Pail | X |
| 82kg Keg | X |